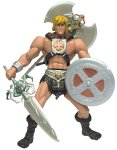 Pic stolen from Amazon...or did amazon steal the pic from here?...

We here at the Slime Pit have been very lazy, but since Isabel the Hurricane has closed down everything, it's time to update.  Update #1: I hate you.

With that said, I will now make a list of all the new figures.  The only thing I know how to do is make lists.  I'm a horrible horrible listing person.

He-Man-at-Arms...now wouldn't that be a cool variant?

I'm sorry, I'm sorry...I'll make a real list...